Awards
The Advanced Ticket Management System helps to meet the needs of one of Alberta's busiest cultural attractions, the Royal Tyrrell Museum in Drumheller. This new system uses advanced technology for better customer service, and a well-planned implementation process ensured the new system was in place and the museum staff trained, prior to peak tourism season. The system has made it easier and more efficient to focus on client needs, and has helped to improve customer service at other cultural attractions.
Premier's Award of Excellence
Vantix Systems' ATMS+ at the Royal Tyrrell Museum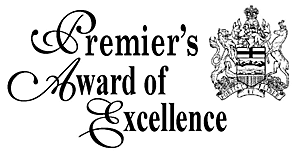 The Royal Tyrrell Museum is one of Alberta's most highly attended cultural attractions, with over 385,000 visitors annually. To better meet the needs of these customers, the museum implemented the Advanced Ticket Management System (ATMS+).
The ATMS+ Project focuses on using technology to improve customer service. The first phase began with key museum staff members researching technology solutions to advance customer service, simplify staff training and streamline business processes. Alliances were formed between business units at the museum and the Information and Technology Branch of Alberta Community Development, which worked with clients and stakeholders to determine service gaps and select the ATMS+ software.
The Software was implemented as a pilot project initially. Museum staff members were trained, software capabilities were enhanced and statistical reporting was migrated to the new system in time for the approaching peak validation season.
Vantix Systems' ATMS+ system changed the way the ministry does business by making it easier to focus on client needs through information sharing and optimizing resources. The ministry's close involvement with the development of the software resulted in improved customer service at the point of sale at the other cultural facilities.